30 Second Wine Advisor: This week's sponsors
• California Wine Club:
Join now, earn a FREE bottle of wine!
http://www.cawineclub.com

In This Issue
• Ten truths about collecting wine
• Ravenswood 2000 Vintners Blend California Zinfandel
• California Wine Club: Join now, earn a FREE bottle of wine!
• Last Week's Wine Advisor Index
• Administrivia
Ten truths about collecting wine
For today's column I'm in debt to Virginian Craig Potts, an old online pal in our Wine Lovers' Discussion Group. His lighthearted-yet-serious 10-point guide offers good advice to everyone who "collects" wine, whether you have a 10,000-bottle cellar or just a few nice bottles on a wine rack in your dining room.
So without further ado, here is Craig's list of "Ten truths about collecting wine," with a couple of my editor's notes added:
1. There are so many great wines in every vintage that you can not possibly find them all, let alone afford to buy even a percentage of them. So quit chasing vintages.
2. Wine mailers and allocations are traps. Dump them. All of them. (In other words, consistent with Truth No. 1, don't chase "cult" wines. It isn't worth it. --RG)
3. Every day, every bottle in your cellar should be a candidate to open. (Yes, but with the caveat that it's prudent to hold immature wines, and perhaps imprudent to open the special bottle that you were saving for your anniversary to enjoy with pizza tonight. Read this one as: "Don't revere your prizes so much that you never do open them." --RG)
4. Keep an inventory. Forget the insurance reasons. It's fun.
5. Join a wine group, or several. Your knowledge, experience, and your enjoyment will grow in proportion to your expanding cellar.
6. Knowing more about wine than your local merchants is more important than pretending that you do.
And yet...
7. ... Somehow, 10 percent off a mixed case is cheaper than 1 or 2 bottles at full price.
8. Do not try to convert your friends and family into wine lovers. It will cost you plenty and they will still serve you plonk every time you visit. (On the other hand, it's never in bad taste to offer your non-wine-loving friends and loved ones something decent to drink. --RG)
9. Whenever you travel, especially on holiday or vacation, buy wine and bring it home with you. These will become the most memorable and special bottles of your lifetime.
10. Share your good bottles with people who like wine. Share your great ones with people who know wine.
Thanks, Craig! There's a lot of wisdom in that list. Now, if you would like to take part in an interactive discussion of these "Ten Truths," you're welcome to click to this topic on the Wine Lovers' Discussion Group:
http://www.wineloverspage.com/cgi-bin/sb/index.cgi?fn=1&tid=32865.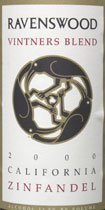 Today's tasting reports on the subject wine for this month's Wine Tasting 101 feature on WineLoversPage.com. Check
http://www.wineloverspage.com/forum/wt101.phtml
to learn more about this free, interactive way to learn and practice recording your wine notes in a friendly setting where there are no wrong answers.
Ravenswood 2000 Vintners Blend California Zinfandel ($11.69)
Clear dark reddish-purple color, with a pleasant scent of berries with a somewhat green and sappy aroma in the background. Full mixed-berry fruit and lemon-squirt acidity, fruity but a bit on the tart side for Zin, which I don't usually think of as a high-acid wine. It's good, though, and makes a better-than-average food wine. (Aug. 9, 2002)
FOOD MATCH: Fine with a pizza topped with Italian sausage, green olives, green peppers and onions.
VALUE: Reasonable value for the price.
WEB LINK: You'll find Ravenswood at
http://www.ravenswood-wine.com/.
California Wine Club:
Join now, earn a FREE bottle of wine!
Harvest has begun in Californiaís wine country and thereís a wine buzz in the air! At The California Wine Club they too are brimming with excitement about their upcoming selections! Thatís because each and every one of The California Wine Club wines is hand-selected from the best of Californiaís small, family-owned wineries.
As a wine club member, youíll receive a monthly selection that includes two bottles of award-winning wine along with Uncorked, a fun and informative 8-page newsletter. Itís a wine adventure that takes you from Napa and Sonoma to Monterey, Santa Ynez, Temecula and all the exciting wine spots in between!
Each two-bottle shipment is just $32.95 plus shipping. You can stay for as long as you wish, the wines are guaranteed and thereís never any membership fee!
For more information call (800) 777-4443 or visit the club's website at
http://www.cawineclub.com
ABOUT THAT FREE BOTTLE: Mention the 30 Second Wine Advisor and they'll include a FREE bottle of wine in your first shipment. Wine shipping available in the U.S. wherever the law permits.
Last Week's Wine Advisor Index
We're moving gradually back toward daily publication, with two Wine Advisor issues and one FoodLetter per week for now. Here's the index:
• An Argentine bargain (Aug. 7)
http://www.wineloverspage.com/wineadvisor/tswa020807.phtml
• 2000 Bordeaux: an affordable preview (Aug. 5)
http://www.wineloverspage.com/wineadvisor/tswa020805.phtml
• Complete 30 Second Wine Advisor archive:
http://www.wineloverspage.com/wineadvisor/thelist.shtml
• Last week's Wine Advisor Foodletter: Tuscan beans (Aug. 8)
http://www.wineloverspage.com/wineadvisor/tsfl020808.phtml
• Wine Advisor Foodletter archive:
http://www.wineloverspage.com/wineadvisor/foodlist.phtml
Administrivia
To subscribe or unsubscribe from The 30 Second Wine Advisor, change your E-mail address, switch from weekly to daily distribution, or for any other administrative matters, click to http://www.wineloverspage.com/wineadvisor/admin.phtml. In all administrative communications, please be sure to include the exact E-mail address that you used when you subscribed, so we can find your record. If you must unsubscribe, please take a moment to tell us why you're leaving, and to offer any comments or suggestions you may have. We do not use our E-mail list for any other purpose and will never give or sell your name or E-mail address to anyone.
I welcome feedback, suggestions, and ideas for future columns. To contact me, send E-mail to wine@wineloverspage.com.
All the wine-tasting reports posted here are consumer-oriented. In order to maintain objectivity and avoid conflicts of interest, I purchase all the wines I rate at my own expense in retail stores and accept no samples, gifts or other gratuities from the wine industry.
Monday, Aug. 12, 2002
Copyright 2002 by Robin Garr. All rights reserved.
Subscribe to the 30 Second Wine Advisor
Wine Advisor archives