<!TODAY'S TEXT STARTS HERE!>

30 Second Wine Tasting Tip:
Getting the most out of a large tasting

One of the most effective ways to gain a lot of wine knowledge in a hurry is to wangle an invitation to a large trade or commercial tasting where scores of wines are being served. But the scene at such a tasting can be daunting, with hundreds of participants jammed around dozens of tasting tables, reaching out their wine glasses like baby birds demanding tidbits from their Mom.

How can you get the most out of a major event like the huge tasting sponsored by the Schneider's of Capitol Hill wine shop last weekend at the National Press Club in Washington, D.C., where some three dozen importers and distributors were offering samples of more than 200 wines?

There's no practical way to taste them all, so your options are clear: Take a random walk, sampling whatever you encounter (not entirely a bad idea) ... or spend a few moments making a coherent plan before you dive in to the mob scene. Here's how I handled the Schneider's tasting:

* Scan the list of wines to spot specific items that you really want to taste. I knew my pal Peter Finkelstein would be there, representing Philadelphia-based World Shippers and Importers Co., so I made a note to drop by Peter's table and taste what he was pouring. I also added to my "must" list the fine Spanish wines Pesquera and Condada de Haza, two favorites from the Ribera del Duero; and I highlighted the Feuillate Champagnes in hopes of finding bubblies of exceptional value.

* Focus on broad categories. Realizing that I wouldn't be able to try all 200-plus in the tasting, I decided to stay mostly with reds - and, frankly, primarily the most expensive and sought-after items, wines that I would be unlikely to purchase on my own.

* Don't be ashamed to spit and dump. Being serious about wine doesn't make you immune to alcohol impairment, and a few dozen tiny sips can add up quickly. That's why professional tastings always have plenty of buckets available, and no one is insulted when you use them.

* Avoid the crowds that gather around the "cult" items. Unless you're desperate to try a specific wine, avoid the traffic jams at the tables with the most sought-after items and enjoy the relative calm around the rest.

* Take plenty of notes. Use the sheets that the tasting organizers provide or bring your own notebook. Either way, jot down your impressions of the wines you like, a procedure that will help fix them in your memory as well as giving you a written shopping list to use later.

* Finally, if you're not in the wine business, don't despair of your chances at getting in to tastings like this. While many are limited to people in the industry, other major tastings - like this one - are open to any interested wine lover. Get to know the folks at your local wine shop, express your interest in tastings, and chances are they'll let you know when the next one comes along.

I took notes on no more than two dozen of the wines available Saturday and left feeling that I had done a good job of culling the list. My tasting notes are too voluminous to include in this E-mail bulletin, but if you'd like to read them, they're archived on The Wine Lovers' Page at www.wine-lovers-page.com/wines/wt100999.shtml.

If you're an old hand at getting invited to trade tastings, and making the most of them once you're there, let us know! Send me your comments by E-mail at wine@wine-lovers-page.com. I regret that the growing circulation of the "Wine Advisor" makes it difficult for me to reply individually to every note, but I'll answer as many as I can; and please be assured that all your input helps me do a better job of writing about wine. Please feel free to get in touch if you'd like to comment on our topics and tasting notes, suggest a topic for a future bulletin, or just talk about wine.

If you're enjoying The 30 Second Wine Advisor, we hope you'll tell your wine-loving friends to register for their own free weekly copy at http://www.wine-lovers-page.com/wineadvisor.

30 Second Tasting Notes
Montepulciano d'Abruzzo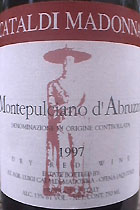 Cataldi Madonna 1997 Montepulciano d'Abruzzo ($11.99)
This dark-garnet wine offers good aromas of spicy oak and black fruit, showing a lot of character for this usually budget-range wine, which may explain why it sells for a few dollars more than the typical under-$10 price range for Montepulciano. Full of simple but fresh flavor, it's full and ripe if also a bit hot and coarse. Tart acidity makes it a good food wine. (Note, by the way, that this wine has no relationship with Vino Nobile di Montepulciano, which is made from Sangiovese, not Montepulciano, and is named after the village where it's made rather than the grape.) U.S. importer: Vias Imports Ltd., NYC. (Oct. 10, 1999)

FOOD MATCH: The wine's zippy acidity and forward fruit make it a natural with pan-roasted leg of lamb.


Wine Lovers' Voting Booth

We've opened a new "ballot" this week in the Wine Lovers' Voting Booth, asking folks who enjoy wine to tell us what you think is the most frustrating aspect of this usually enjoyable hobby. The Voting Booth now supports multiple responses and a fill-in-the-blank feature. Give it a try!

30 Second Wine Link

Warning: Hit this link only if you have a lot of time on your hands! In contrast with our selective list of my "favorite" links on The Wine Lovers' Page, the Vine2Wine.com directory seeks to catalog every wine-related site on the World Wide Web. User-friendly and stylish in its design, it subdivides wine sites into several categories, each listed alphabetically.

30 Second Advertising Partner

California Wine Club, this quarter's sponsor of The 30 Second Wine Advisor, offers members two different bottles of excellent, affordable wine every month (available where permitted by law), along with its monthly newsletter "Uncorked." You can reach the Club at the link above or, in the U.S., by calling 1-800-777-4443.

30 Second Administrivia

This free weekly E-mail publication is distributed to subscribers every Monday. Previous editions are archived on The Wine Lovers' Page. See www.wine-lovers-page.com/wineadvisor/thelist.shtml.

You are on the subscription list because our records indicate that you registered during a visit to Robin Garr's Wine Lovers' Page. If for any reason you don't want to receive this publication, simply send E-mail to 'wine@wine-lovers-page.com' and we'll remove your name from the list. We do not use this list for any other purpose and will never give or sell your name or E-mail to anyone.

If your E-mail program is having trouble handling the images in this edition, feel free to request that we switch you from the HTML to TEXT edition ... or vice versa. We welcome feedback, suggestions, and ideas for future columns. Send us E-mail at wine@wine-lovers-page.com.

All the wine-tasting reports posted here are consumer-oriented. In order to maintain objectivity and avoid conflicts of interest, I purchase all the wines I rate at my own expense in retail stores and accept no samples, gifts or other gratuities from the wine industry.

More time for wine?

You don't need to wait for Mondays to read about wine! Drop in any time on Robin Garr's Wine Lovers' Page, where we add new tasting notes several times each week and frequently expand our selection of wine-appreciation articles, tips and tutorials.

If you'd like to talk about wine online with fellow wine enthusiasts around the world, we'd be delighted to have you visit the interactive forums in our Wine Lovers' Discussion Group. If you're from another part of the world and don't feel entirely comfortable chatting in English, visit our International Forum and introduce yourself in the language of your choice.

Vol. 1, No. 38, Oct. 11, 1999

<!TODAY'S TEXT ENDS HERE!>

Subscribe (free) to The 30 Second Wine Advisor