GETTING STARTED | WINE NOTES | SEARCH SITE | DISCUSSION FORUMS | 30 SECOND WINE ADVISOR | CONTACT US

<!TODAY'S TEXT STARTS HERE!>

A traditional day in the Langhe

A good night's sleep in Bergamo behind us and feeling almost like we were getting up at a normal hour, we hit the road for a long-awaited discovery trip to the Langhe, the wine region that includes the Alba, Barolo and Barbaresco wine districts in the Piemonte, the Alpine foothills of Northwestern Italy south of Torino (Turin).

Another of our Wine Lovers' Discussion Group (WLDG) friends, Roberto Vigna, was waiting at the autostrada exit in Asti to be our guide for the day, and he had an excellent pair of winery visits set up for us (not to mention a truly memorable dinner at day's end).

Bruno Giacosa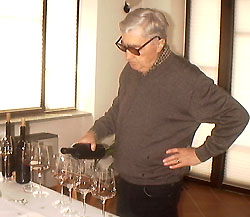 One of the most respected wine makers in the Barbaresco region - and, by some accounts, one of the most traditional - is Bruno Giacosa, who proved a friendly and generous host as he showed us his winery in the village of Neive.
Bruno Giacosa 1996 Extra Brut - Very pale straw, persistent bubbles. Good Pinot Nero character, milk chocolate and crisp white fruit, full and balanced.
Bruno Giacosa 1999 Roero Arneis - Pale brass. Pleasant honey and mint aromas. Tart, full, pleasant bitter-almond finish.
Bruno Giacosa 1998 Nebbiolo d'Alba Valmaggiore di Vezza d'Alba - Clear ruby, with appetizing chocolate-covered cherry scents; tart cherries and bitter chocolate flavors with firm tannins in a long finish.
Bruno Giacosa 1998 Barbera d'Alba - Dark reddish-purple; warm, plummy fruit scents. Big and bold fruit, tart acid.
Bruno Giacosa 1997 Barbaresco Santo Stefano di Neive - Dark garnet. Full, complex aromas, ripe black fruit and subtle wildflowers. Rich, balanced, delicious; drinking beautifully but will reward time.
Bruno Giacosa 1996 Barolo Falletto di Serralunga d' Alba - Inky dark ruby, Cedar and dried roses, a delight. Mouth-filling, balanced, a wonderful wine.
Bruno Giacosa 1996 Barbaresco Riserva Asili di Barbaresco - (Barrel sample, 2001 release.) Dark ruby, complex mineral and floral scents. Big, tannic, needs time but already impressive.
Giuseppe Rinaldi

Rinaldi, on a hill overlooking the village of Barolo (where the wine maker is pictured on the porch of the winery with the village in the background), is another quality producer with a philosophical commitment to following the old ways in making wines of traditional vinification and style; and wine maker Giussepe Rinaldi proved another generous host.

Rinaldi 1998 Barolo San Lorenzo and Ravera vineyards (barrel sample.) - Very dark ruby. Good Nebbiolo character somewhat cloaked by cellar temp and huge tannins. Still shows a lot of potential.

Rinaldi 1997 Barolo Brunate and Coste vineyards (barrel sample) - Inky dark purple. Barolo flowers, tar and smoke. Good fruit framed by tart, lemony acid.

Rinaldi 1999 Dolcetto d'Alba (barrel sample) - Inky blackish-purple, with forward raspberry aromas. Tart, very acidic, quite tannic. Needs time.

Rinaldi 1999 Barbera d'Alba (barrel sample) - Blackish-purple. Plummy and smoky grilled meat, chewy and structured - At 14 percent alcohol, "a steak in a glass."

Rinaldi 1999 Barbera d'Alba (barrel sample with no malolactic fermentation) - Much more tartly acidic, a squirt of lemon juice, more one-dimensional.

Rinaldi 1999 Freisa (barrel sample with malolactic fermentation under way) - Very dark reddish-purple. Plums and strawberries. Soft, quaffable.

Rinaldi 1996 Barolo (barrel sample, to be bottled next week) - Dark ruby. Delicious, full and ripe, soft tannins but very drinkable now.

Rinaldi 1996 Ruché - Very dark garnet. Remarkably aromatic, grapey and blackberry and fragrant pepper, highly tannic. Idiosyncratic but appealing.

Trattoria Marsupino

This cozy, informal dining room in the village of Briaglia doesn't turn up in tourist guides, but perhaps it should: The setting was amiable and the food - served in a series of degustation portions - was exceptional, and priced substantially below the level of tourist establishments. Highly recommended.

Barone Riccati 1998 Dolcetto delle Langhe Monregalesi Il Colomb - Inky, almost black. Lovely violets, ripe and fresh. Big and tannic, extracted, very atypical Dolcetto.

La Spinetta 1999 Vigneto Biancospino Moscato d'Asti - Pale greenish-gold with a crackly frizzante. Fresh peaches and mandarins on the nose and palate. Crisp and refreshing, low alcohol.

Have you tasted these wines?
E-mail me your tasting notes,
and I'll consider adding them to this page.

Back to Europe Wine Diary 2000

<!TODAY'S TEXT ENDS HERE!>

All my wine-tasting reports are consumer-oriented. In order to maintain objectivity and avoid conflicts of interest, I purchase all the wines I rate at my own expense in retail stores.

Back to Current Tasting Notes Index