<!TODAY'S TEXT STARTS HERE!>

Gallo of Sonoma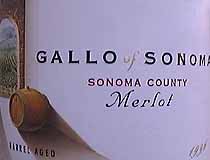 The E & J Gallo Winery, founded in 1933 in the aftermath of Prohibition in the U.S. and now almost certainly the world's largest wine maker with a reported storage capacity of 330 million gallons at its refinery-like main winery in Modesto, Calif., has expended considerable effort over the past decade or so in a bid to establish a reputation as a maker of fine, premium-quality wines to match its inarguable status as a maker of mass-market "jug" wines.

To that end, the wine making giant has acquired substantial vineyard property and established wine-making facilities in Northern California's Sonoma County, and in recent years it has startled sometimes skeptical wine lovers with surprisingly fine varietals made in limited quantity and sold under the Gallo Sonoma label.

In the latest chapter of this saga, Gallo now moves from test marketing into national U.S. distribution with a range of modestly priced Gallo of Sonoma wines, packaged with a bright, simple label that appears aimed at a mass-market audience, but of a quality sufficient to satisfy just about anyone seeking an affordable table wine.

Gallo of Sonoma 1996 Sonoma County Merlot ($9.99)
Dark ruby color. Tart cherry-berry and spicy oak aromas. Ripe, juicy and soft flavors, with plenty of zippy acidity to give it structure. A simple, sippable wine, it's not a style to make a "connoisseur" shout, "Oh, boy, Gallo of Sonoma Merlot tonight!" But it's an approachable, well-crafted table wine aimed at a market niche where Gallo can expect to sell a lot of it. (March 20, 1999)

FOOD MATCH: Its supple fruitiness makes this one a fine match with a fat free-range roasting hen.


In addition to the above, purchased at retail and rated at home, I also had the pleasure of tasting through the entire Gallo of Sonoma line with the firm's director of communications, Carmen J. Castorina, earlier in the month. Carmen brought along packets of publicity materials describing the role of Julio Gallo's grandchildren Gina as wine maker and Matt as vine grower for the new line.

After test-marketing in fewer than a dozen states (the U.S. West Coast, mostly, plus Kentucky), the Gallo of Sonoma label went nationwide this month, with all its wines bearing a $12 "manufacturer's suggested retail" price but actually expected to sell for just under $10 in most markets. Castorina said the line isn't immediately expected to be available for export, although other Gallo products are sold around the world.

Here's a quick rundown of the other varietals in the new line:

Gallo of Sonoma 1997 Russian River Valley Chardonnay
Clear, bright brass color. Pineapple, tropical fruit and sweet oak aromas; crisp and fresh flavors follow the nose. Definitely in the California style, but it avoids the excesses of sweet, butter and oak that render some of its more pricey brethren less than palatable.

Gallo of Sonoma 1997 Russian River Valley Pinot Noir
Dark ruby. Cherry cola and light, pleasant herbaceous aroma notes. Juicy fruit flavor, acidic, a bit hot. Definitely shows the character of the grape, a compliment that can't be extended to many $10 California Pinots.

Gallo of Sonoma 1996 Dry Creek Valley Zinfandel
Day-glo reddish-purple color. Ripe "bramble fruit," the classic blackberry and raspberry aromas of Dry Creek Zin. Big fruit flavors, simple but fresh, structured with zingy acidity and significant (13.9% alcohol).

Gallo of Sonoma 1995 Sonoma County Cabernet Sauvignon
Inky blackish-purple in color. Cassis, cedar and weedy oak, "cigar-box" elements on the nose and palate, structured with good acidity and soft tannins. Brawny but balanced, a very nice Cabernet with a hint of "Bordeaux" style. Perhaps my favorite of the group, a startling value for $10.

Have you tasted these wines?
E-mail me your tasting notes,
and I'll consider adding them to this page.

All my wine-tasting reports are consumer-oriented. In order to maintain objectivity and avoid conflicts of interest, I purchase all the wines I rate at my own expense in retail stores.