<!TODAY'S TEXT STARTS HERE!>

Any Port in a storm?

Port, as any wine lover will tell you, is a powerfully fortified sweet red wine from Oporto in Portugal, one of the world's great dessert wines, capable of improving with age for many years.

However, wine makers in Australia, South Africa and the U.S. have borrowed the name to use on similar-only-different wines, warm and strong and sweet. Our Australian cousins in particular are said to be wild about these wines, which they typically made in the oak-aged "tawny" style, not red but brown and so extremely sweet that they earn the nickname "stickies."

This one's an unusually impressive example, remarkable in its complexity, at a price that's more than fair in the luxury realm of dessert wines.
Hardys non-vintage Whiskers Blake Tawny Port ($14.99)
Dark amber with a reddish-copper hue, this fine dessert wine breathes delicious scents of mixed nuts and browned butter; it smells so good that we sit and sniff it for a long time before taking the first taste. Sweet and mellow, it blends flavors of dark, plummy fruit with rich milk chocolate, sweet oak and caramel -- in an odd way, it reminds this Kentuckian of a very fine Bourbon, without the heat. Though far afield from a traditional Port, it's a wonderful Oz "sticky," one of the best I've tasted. U.S. importer: International Cellars, Chantilly, Va. (May 7, 1999)
FOOD MATCH: Served by itself for after-dinner enjoyment as a dessert in its own right.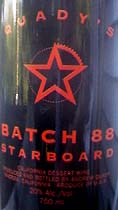 Quady's Batch 88 "Starboard" California Dessert Wine ($16.99)
In the interest of meeting European Economic Community requirements for export, Quady has dropped the "Port" name with a smiling nautical twist. The wine is very much in the tradition of Oporto, however; if not a great vintage Port, it could certainly pass as an example of the non-vintage "ruby" style. Inky dark garnet in color, it offers plummy fruit and pleasantly earthy nutlike scents. Sweet, pruney fruit flavors are well structured with a lemony acidic "grip." (May 8, 1999)

FOOD MATCH: Again, served alone for evening sipping.

These wines were featured in The 30 Second Wine Advisor, my free weekly E-mail bulletin of quick wine tips, advice and tasting notes. Click here to join the E-mail list!

Have you tasted these wines?
E-mail me your tasting notes,
and I'll consider adding them to this page.

All my wine-tasting reports are consumer-oriented. In order to maintain objectivity and avoid conflicts of interest, I purchase all the wines I rate at my own expense in retail stores.