<!TODAY'S TEXT STARTS HERE!>

A trip to Toad Hollow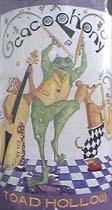 Surely no self-respecting wine lover would buy wine based on a cute name or funny, colorful label alone. But in the real world of wine marketing, a cute name and colorful label certainly make a bottle stand out on the crowded retail shelf!

So seeing these new items in a local shop, I snapped them up, then asked friends on the Wine Lovers' Discussion Group to tell me the story of Toad Hollow. Robert Noecker responded:

Toad Hollow is a partnership between Todd Williams and Rodney Strong, the figurehead at Rodney Strong Vineyards. They have vineyard property near Healdsburg where they farm Chardonnay (Francine's Vineyard, named for Todd's wife) and Merlot, about five years old. They also release Pinot Noir from the Russian River, Zinfandel "Cacophony" and a Dry Pinot Noir Rose called "Eye of the Toad." The Chardonnay is unwooded and predates most of the unwooded Chardonnay now coming into vogue.

There are a couple of common misconceptions about Toad Hollow that I'll clear up. Todd is in fact the half brother of actor Robin Williams, but Robin has no stake or ownership in Toad Hollow whatsoever, and never has. Robin does have a few vines growing at his wine country home but that fruit is sold to Coppola, I believe. Also, Todd is not related to John and Julie Williams from Frogs Leap, they are just coincidental amphibious "cousins" (but Todd and John Williams from Frogs Leap may collaborate next year on a single barrel of wine to be likely named "Amplexis," which is Latin for the mating of Toads).

They are, in my opinion, solid values and have received notable acclaim in the press.

The two Toad Hollow wines locally available, as it turned out, are fine, and quite affordable values. And the Toad Hollow Vineyards Webbed Site is quite an amiable place, just as you might expect.

Toad Hollow 1997 "Cacophony" Sonoma County Zinfandel ($12.99)
Clear, dark reddish-purple. Jammy raspberry fruit fights for dominance with aromatic vanilla in a pleasant but rather oaky aroma. Fresh, full berry fruit flavor, an exuberant bowl of fruit, so juicy that it almost seems sweet. The edge of new oak is noticeable, but it's still a quaffable and very approachable Zin. (May 10, 1999)

FOOD MATCH: Grilled portabello mushroom topped with mozzarella cheese, roasted peppers and artichoke hearts.

Toad Hollow "Eye of the Toad" California Dry Rosé ($9.99)
Clear bright copper color. Light floral and herbal scents lead into a fresh, crisp and dry flavor. Fresh if simple fruit, a refreshing quaff in the dry and herbal Provence style. Good food wine, reminds us why crisp, dry pinks make great summer sippers. The technical notes indicate that it's a 1997 vintage, made from Pinot Noir plus 10 percent old vines Carignane. (May 11, 1999)
FOOD MATCH: Fine with a moderately spicy Cajun-style chicken gumbo.

Have you tasted these wines?
E-mail me your tasting notes,
and I'll consider adding them to this page.
All my wine-tasting reports are consumer-oriented. In order to maintain objectivity and avoid conflicts of interest, I purchase all the wines I rate at my own expense in retail stores.