<!TODAY'S TEXT STARTS HERE!>

30 Second Wine Tasting Tip:
Why is German wine such a hard sell?

I like German wine, and I like touring the German wine country. The Rhine and, especially, the Mosel and its tributaries the Ruwer and the Saar, may be among the world's most scenic wine regions.

But like just about every other wine lover I know, I may drink one bottle of German wine for every 50 times I open a dry table wine in the French-Italian tradition that seems to dominate the world of wine.

Why is German wine such a hard sell?

I think several factors are involved. German wine labels are often old-fashioned, as the images in our HTML edition suggest. While some might consider this an actual advantage, in today's marketing environment, many consumers read "old" as "dull." Perhaps more important, German wine labels seem complicated to those who haven't taken the time to learn their mysteries. Labels usually include the name of the village and the name of the vineyard -- "Bernkasteler Badstube" is from the Badstube vineyard in the Mosel town of Bernkastel, while "Ayler Kupp" is from the Kupp vineyard in the village of Ayl on the Saar. The grape is listed - Riesling, of course - as, for the top-quality German wines, is a term indicating the degree of ripeness of the grapes, from Kabinett, the lowest and usually the dryest, through Spätlese and Auslese and on to the ultra-sweet dessert-style wines.

Finally, though, I think the underlying issue is simply one of style. German wines are usually light, low in alcohol and slightly sweet, with their sweetness held in check by racy acidity, creating a beverage with the zippy freshness of fruit juice and not the cloying sweetness of a soft drink. While you'd think this would make them a perfect product for modern tastes, it seems that they are just so different from what most of us expect in a wine that we find them hard to get used to.

But who knows? Rhine and Mosel wines might come around again. After all, they were immensely popular in 19th Century Britain, and even Queen Victoria was said to be a great fan of "Hock," as they called the great Rhine wine from the village of Hochheim.

What's your attitude about German wine? Love it, hate it, or just don't know? If you'd like to sound off, send me E-mail at wine@wine-lovers-page.com. And, as always, don't hesitate to get in touch if you'd like to comment on our topics and tasting notes, suggest a topic for a future bulletin, or just talk about wine.

If you're enjoying The 30 Second Wine Advisor, we hope you'll tell your wine-loving friends to register for their own free weekly copy at http://www.wine-lovers-page.com/wineadvisor.

30 Second Tasting Notes
Two fine Mosel Rieslings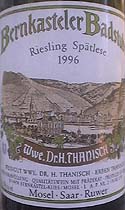 Dr. H. Thanisch 1996 Bernkasteler Badstube (Mosel-Saar-Ruwer) Riesling Spätlese ($16.99)
Very light gold, typically light in color for a Mosel. Musky, pleasantly pungent "conifer" aromas and green apples. Sweet and tart in flavor, apple juice on a structure of steel. Sweet at first tasting, it dries out in the mouth to finish with a citric tang. At only 8 percent alcohol, it's light, crisp and refreshing. U.S. importer: Valckenberg International Inc., Tulsa, Okla. (July 25, 1999)

FOOD MATCH: A light summer dinner of a "hye roller," cracker bread rolled around smoked salmon and dill cream cheese, makes a surprisingly good match; the wine's zingy acidity marries beautifully with the salmon, and its herbal notes seem to bring up the fresh flavor of the dill.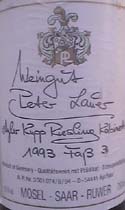 Weingut Peter Lauer 1993 Ayler Kupp (Mosel-Saar-Ruwer) Riesling Kabinett ($12.99)
Watery pale in color, this wine breathes scents of honey and "slate," a pleasant, evocative mineral aroma that reminds me of wet rocks after a summer rain. Crisp and nearly dry, much less obviously sweet than the Spätlese, with a distinct note of "petrol," an odd, unexpectedly appealing quality often found in older Rieslings, all built on that steely acidic backbone that's characteristic of the Mosel and especially the Saar. And as is typical of Mosel Rieslings, it's showing little evidence of age and none of deterioration six years after the vintage. U.S. importer: Willett Distributing Inc., Alexandria, Ky. (July 25, 1999)

FOOD MATCH: Washes down the salmon-cream-cheese snack well enough, but this drier and even more acidic wine doesn't make quite the perfect match that the first wine did.


30 Second Wine Link

Les Kincaid's Wine Country - All About Wine, a feature of his website celebrating food, wine and golf, includes a series of Les's entertaining articles, including wine tasting, food-and-wine matching, food-and-beer pairing, vintage charts, wine vocabulary, ordering wine in the restaurant, judging the quality of wine and more.

30 Second Advertising Partner

The Sydney International Wine Competition, our Australian advertising partner, is the only major wine competition in the world that judges the best wines alongside complementary food. Its excellent Website lists all the wines that its judges rated as the world's best, along with recipes and descriptions of the foods that accompanied them.

30 Second Administrivia

This free weekly E-mail publication is distributed to subscribers every Monday. Remember, we have indexed our growing archive of previous editions on The Wine Lovers' Page at www.wine-lovers-page.com/wineadvisor/thelist.shtml.

You are on the subscription list because our records indicate that you registered for it during a visit to Robin Garr's Wine Lovers' Page. If for any reason you don't want to receive this publication, simply send E-mail to 'wine@wine-lovers-page.com' and we'll remove your name from the list.

If your E-mail program is having trouble handling the images in this edition, feel free to request that we switch you from the HTML to TEXT edition ... or vice versa. We also welcome feedback, suggestions, and ideas for future columns. Send us E-mail at wine@wine-lovers-page.com.

All the wine-tasting reports posted here are consumer-oriented. In order to maintain objectivity and avoid conflicts of interest, I purchase all the wines I rate at my own expense in retail stores and accept no samples, gifts or other gratuities from the wine industry.

More time for wine?

You don't need to wait for Mondays to read about wine! Drop in any time on Robin Garr's Wine Lovers' Page, where we add new tasting notes several times each week and frequently expand our selection of wine-appreciation articles, tips and tutorials.

If you'd like to talk about wine online with fellow wine enthusiasts around the world, we'd be delighted to have you visit the interactive forums in our Wine Lovers' Discussion Group. If you're from another part of the world and don't feel entirely comfortable chatting in English, visit our International Forum and introduce yourself in the language of your choice. <!TODAY'S TEXT ENDS HERE!>